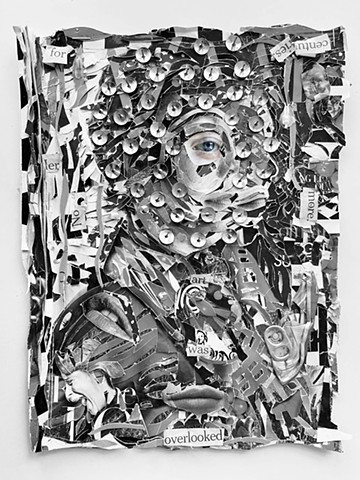 "Wo Bleibt das Licht" / Where is the Light,
2023, digital photo-documented collage on fine art photo paper,
100 x 75 cm
Alyssa De Luccia is a visual artist, who lives and works in Berlin, Germany. Simultaneous dualities is a recurring theme in her work. As an artist, she draws inspiration from unfamiliar environments with the knowledge that everything isn't what it appears to be. Alyssa DeLuccia engages a range of disciplines which include photo-documentation, installation, portraiture, photo-montage and most recently drawing, reflecting her interest in formalism while at the same time following a strong tradition in feminism, surrealism and dadaism. While her work increasingly reflects these influences, in recent times it also leans towards a social and political statement of a society out of balance as well as paying homage to the work of Hannah Hoch, a pioneer of Photomontage and social criticism of mass media.
She has shown in numerous museums and galleries, including The Berlinische Galerie, Berlin, Germany; The Corner at Whitman-Walker, Washington, DC; Staatliche Kunsthalle, Baden-Baden; the Wilhelm-Hack-Museum, Ludwigshafen am Rhein; Thaddaeus Ropac Gallery in Paris; and the Brandenburg State Museum in Cottbus, Germany. She has been the recipient of grants and residencies from a range of sources including The MacDowell Colony; KW Institute for Contemporary Art Berlin; KB-Künstlerhaus Bethanien Berlin; the Cité des Arts in Paris; Stiftung Kunstfonds from Bonn; Research/ Artist Grant and a Special Scholarship for Fine Arts from the Berlin Senate.
For image requests, please contact VG Bild-Kunst,
the German non profit collecting society:
info@bildkunst.de
www.bildkunst.de